---
The God of Small Things
by
Arundhati Roy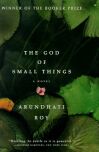 Paperback:
321 pages

HarperCollins
ISBN:
0060977493

Dimensions (in inches):
0.78 x 8.00 x 5.28

Buy from Amazon.com
Book Description
Southern India 1969. Here, armed only with the invincible innocence of children, Rahel and Esthappen fashion a childhood for themselves in the shade of the wreck that is their family: their lonely, lovely mother, who loves by night the same man her children adore by day...their blind grandmother, who plays Handel on her violin...their beloved uncle, a Rhodes Scholar pickle baron, radical Marxist, bottom-pincher...their enemy, an ex-nun and incumbent grandaunt...and the ghost of an imperial entomologist's moth. But when their English cousin and her mother arrive for a Christmas visit, the twins learn that things can change in an instant, that lives can twist into new, ugly shapes, even cease forever. The brilliantly plotted story uncoils with an agonizing sense of foreboding and inevitability. Yet nothing prepares you for what lies at the heart of it.


---

To order books not listed on this Web site, please click on the link to Amazon.com below.

---
Comments and Questions about this Web site: zenana@writeme.com
[ Current/Next Book ] [ Current Book List ] [ Browse by Year ] [ Browse by Author ] [ Reader's Guides ] [ Best Sellers ] [ Other Book Clubs ] [ Post a Review ] [ Read a Review ]