Arundhati Roy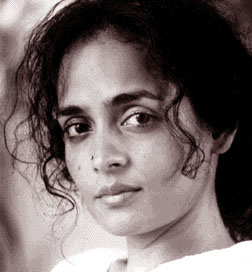 Arundhati Roy was born in 1961 in Bengal and grew up in Kerala. She trained as an architect at the Delhi School of Architecture, but became better known for her complex, scathing film scripts. She wrote and starred in In Which Annie Gives it Those Ones, and also wrote the script for Pradip Kishen's Electric Moon. Media attention came when she spoke out in support of Phoolan Devi, who she felt had been exploited by Shekhar Kapur's film Bandit Queen. After the controversy escalated into a court case, she started work on her first book, The God of Small Things, which was published in 1997. As the daughter of Mary Roy, the woman whose court case changed the inheritance laws in favor of women, she is closely acquainted with the Syrian Christian traditions that feature prominently in the book. She says "a feminist is a woman who negotiates herself into a position where she has choices.."

The God of Small Things won the Booker in 1997. Although Indian authors such as Salman Rushdie and Rohinton Mistry have featured in the Booker shortlist, and Rushdie's Midnight's Children won the 'Booker of Bookers', Roy is the first non-expatriate Indian author and the first Indian woman to win this prize. This happened in 1997, India's 50th anniversary of independence from Britain. As always, the exclusions and choices of the Booker judges created some controversy, with some critics praising the lush imagery of Roy's book while others referred to it as 'tripe'. The book has also attracted a lawsuit and angry criticism from Kerala's leftists.

In keeping with her longtime interest in social issues, she has immersed herself in causes such as the anti-nuclear movement and the Narmada Bachao Andolan. Her two major essays, The End of Imagination and The Greater Common Good, are available online as well as in print. Her personal fame has drawn attention and donations to these causes, and she also has made significant monetary contributions.

Arundhati Roy currently lives in New Dehli.
---
Comments and Questions about this Web site: zenana@writeme.com
[ Current/Next Book ] [ Current Book List ] [ Browse by Year ] [ Browse by Author ] [ Reader's Guides ] [ Best Sellers ] [ Other Book Clubs ] [ Post a Review ] [ Read a Review ]