---
Janet Fitch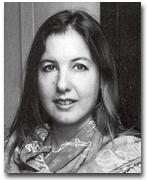 Janet Fitch was born in Los Angeles, a third-generation native, and grew up in a family of voracious readers. As an undergraduate at Reed College, Fitch had decided to become an historian, attracted to its powerful narratives, the scope of events, the colossal personalities, and the potency and breadth of its themes. But when she won a student exchange to Keele University in England, where her passion for Russian history led her, she awoke in the middle of the night on her twenty-first birthday with the revelation she wanted to write fiction. "I wanted to Live, not spend my life in a library. Of course, my conception of being a writer was to wear a cape and have Adventures."
Since then, she has had more than a few Adventures. In addition, she has published short stories in literary journals such as A Room of One's Own, briefly attended film school in the director's program at the University of Southern California, worked at various times as a typesetter, a proofreader, a graphic artist, a freelance journalist, the managing editor of American Film magazine, and the editor of The Mancos Times Tribune, a weekly newspaper in the mountains of Southwestern Colorado. Currently, she reviews books for Speak magazine in San Francisco, and teaches fiction writing privately in Los Angeles, where she lives with her husband and eight year old daughter.
White Oleander, the story published in Black Warrior Review which grew into her novel, was named as a distinguished story in Best American Short Stories 1994.
---


Compare new & used books prices

---
Comments and Questions about this Web site: zenana@writeme.com
[ HOME ] [ Current/Next Book ] [ Current Book List ] [ Browse by Year ] [ Browse by Author ] [ Reader's Guides ] [ Best Sellers ] [ Other Book Clubs ] [ Post a Review ] [ Read a Review ]
Zenana Book Club
KemoDog of DogStar Productions
All Rights Reserved
Revised: February 19, 2003