Anne Tyler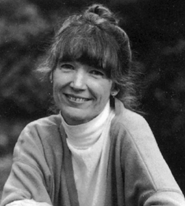 Anne Tyler was born in Minneapolis, Minnesota in 1941, but grew up in North Carolina, as the daughter of an industrial chemist and social worker. The family lived among various Quaker communities in the rural south before settling in Raleigh, North Carolina.
Although born in the North, Tyler is considered a southern writer, emphasizing ordinary people and events in her work. She often creates characters that find their primary identity as members of a family. The family members endure through disappointments and tragedy, with humor often employed as a survival device.
At the age of 19, Tyler graduated from Duke University, Raleigh, where she won the Anne Flexner Award for creative writing. She did post-graduate work in Russian studies at Columbia University. Before settling in Baltimore, Tyler was the Russian bibliographer at Duke University and worked in the law library of McGill University.
As a writer, Tyler made her debut with If Morning Ever Comes in 1964, depicting a young man returning from Columbia to North Carolina attempting to find his own way despite family expectations. The Tin Can Tree, and A Slipping-Down Life were published next.
From 1967, Tyler worked as a full-time writer. She received a citation in 1977 for "literary excellence and promise of important work to come" from the American Academy and Institute of Arts and Letters and published Earthly Possessions. In 1980, Tyler published Morgan's Passing and was nominated for an American Book Award. She also received the Janet Heidinger Kafka Prize for fiction by an American woman. In 1982, her novel Dinner at the Homesick Restaurant was nominated for the Pulitzer Prize and she received the PEN/Faulkner Award for Fiction.
The Accidental Tourist won the National Book Critics Circle Award in 1986, and was made into a film in 1988, directed by Lawrence Kasdan and starring William Hurt and Kathleen Turner. It tells a story of a man who writes travel guides for those who want to 'take trips without a jolt'. As in many Tyler's novels, the characters are trapped by the past and are unable to see their selves or feel alive, but Tyler also ponders the possibility of a happy accident, which could change one's life and open new ways for personal development.
In 1989, Tyler won the Pulitzer Prize for Breathing Lessons.
Tyler has said that she is more interested in her readers' responses to her novels. She has said "I see that they in their solitude, and I in mine, have somehow managed to touch without either of us feeling intruded upon. We've spent some time on neutral territory, sharing a life that belongs to neither of us."
Tyler has stayed out of the public's eyes through the media blitz and has chosen to live a quiet and private life as a writer.
Selected works:
If Morning Ever Comes, 1964
The Tin Can Tree, 1965
A Slipping-Down Life, 1970
The Clock Winder, 1972
Celestial Navigation, 1974
Searching for Caleb, 1975
Earthly Possessions, 1977
Morgan's Passing, 1980
Dinner at Homesick Restaurant, 1982
The Best American Short Stories, 1983 (ed. with S. Ravenel)
The Accidental Tourist, 1985—National Book Critics' Award—film 1988, dir. by Lawrence Kasdan
Breathing Lessons, 1988—Pulitzer Prize
Saint Maybe, 1991
Tumble Tower, 1993
Ladder of Years, 1996
A Patchwork Planet, 1998
Back When We Were Grownups, 2001
---
Comments and Questions about this Web site: zenana@writeme.com
[ Current/Next Book ] [ Current Book List ] [ Browse by Year ] [ Browse by Author ] [ Reader's Guides ] [ Best Sellers ] [ Other Book Clubs ] [ Post a Review ] [ Read a Review ]