Jane Smiley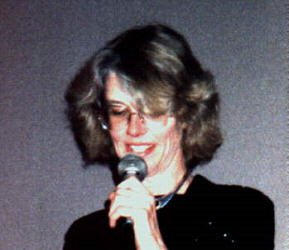 Jane Smiley is the Pulitzer Prize-winning author of A Thousand Acres and, most recently, of the novel Moo. She lives in Iowa, where she teaches at Iowa State University.
Smiley is currently writing a historical novel set in the American Midwest. She isn't eager to talk about it and give away any good parts. "I'm just at the beginning of the writing process," she says. She has a study in her Ames home which is so messy she doesn't ever set foot in it. She carries around her portable computer and when she has time, between riding her horses every day and racing after her 3-year-old son, she sits down in the living room and writes for a few hours.
Smiley was born in L.A. but her family only lived there for one year before moving to St. Louis. She grew up in St. Louis and went to college back East, graduating from Vassar in 1971. She went to graduate school in Iowa and has been there ever since.
She is always labeled a "Midwestern writer" but likes to point out that the University of Iowa wouldn't put her work in the Iowa collection until she'd been living in that state for 20 years. "They were much more reluctant to receive me than others were to hand me over," she said.
Many of her novels and novellas begin with the description of what appears to be an idyllic life in a pastoral setting. Her stories become something very different as she introduces themes of murder, incest and evil. I asked her where the dark side in her work comes from.
"The question is not where the dark side comes from but where the light side come from," she said. "Any serious novelist or serious artist who wants to keep producing has to ponder both the dark and the light."
---
Comments and Questions about this Web site: zenana@writeme.com
[ Current/Next Book ] [ Current Book List ] [ Browse by Year ] [ Browse by Author ] [ Reader's Guides ] [ Best Sellers ] [ Other Book Clubs ] [ Post a Review ] [ Read a Review ]