Toni Morrison (1931- )
(originally Chloe Anthony Wofford)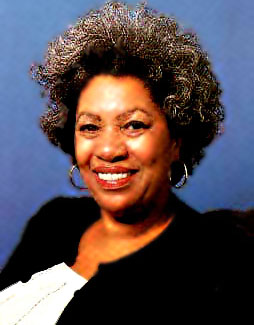 Toni Morrison was awarded the Nobel Prize for Literature in 1993. In her works she has explored the black experience in a racist culture. She has been a member of both the National Council on the Arts and the American Academy and Institute of Arts and Letters. Morrison has actively used her influence to defend the role of the artist and encouraged the publication of other black writers.
Morrison was born in Lorain, Ohio, but unlike her Southern-born parents, she grew up in the North relatively unscarred by racial prejudices. Her family were migrants, sharecroppers on both sides. She spent her childhood in the Midwest and read voraciously as a child, from Jane Austen to Tolstoy. In 1949 she entered Howard University in Washington, D.C. America's most distinguished black college, and continued her studies at Cornell University in Ithaca, New York, where she wrote her thesis on William Faulkner and Virginia Woolf, and received her M.A. in 1955.
From 1955 to 1957, Morrison was an instructor in English at Texas Southern University, at Houston, and taught in the English department at Howard. In 1964 she moved to Syracuse, New York, where she worked as a textbook editor. She was transferred after eighteen months to the New York headquarters of Random House, where she edited books by such black authors as Toni Cade Bambara and Gayl Jones. She also continued to teach at two branches of the State University of New York. In 1984, she was appointed to an Albert Schweitzer chair at the University of New York at Albany, where she nurtured young writers through two-year fellowships.
Morrison's first novel, The Bluest Eye, appeared in 1970, and established the pattern of her later, more complex works of fiction: it is set in the black community of a small, Midwestern town, and its characters are all black. The book was partly based on her story written for writer's group in 1966, which she joined after her six years marriage with a Jamaican architect broke up. The novel tells about Pecola Breedlove, a black girl who believes everything would be all right if only she had beautiful blue eyes. Sula (1973) depicts two black woman friends and their community of Medallion, Ohio, following the lives of Sula and Nel from childhood to maturity and to death. The novel won the National Book Critics Award.
With the publication of Song of Solomon (1973), a family chronicle compared to Arthur Haley's Roots, Morrison rose to international attention. It was a main selection of the Book-of-the-month Club and the first novel by a black writer to be chosen since Richard Wright's Native Son in 1949. The book traced Milkman Dead's efforts to recover his 'ancient properties', the family roots so important to Morrison. After the success of Song of Solomon Morrison bought a four-story house near Nyack, N.Y. In 1988, Morrison was named Robert Goheen Professor in the Humanities at Princeton University.
In 1988, Morrison received the Pulitzer Prize for the novel Beloved (1987), which deals with slavery and infanticide. It was inspired by the true story of a woman who killed her baby after the infamous 1870s Fugitive Slave Act in order to save the child from the slavery she had managed to escape. Jazz (1992) is a fragmented narrative about the causes and consequences of a murder in Harlem in 1926.
Morrison's first novel since the Nobel Prize, Paradise, was published in 1998. The story, set in the tiny farming community of Ruby, Oklahoma, begins from the year 1976 when nine men attack a former girls' school nicknamed "the Convent," now occupied by unconventional women fleeing from abusive husbands or lovers, or otherwise unhappy pasts. Moving freely between eras, Morrison explores the founding of Ruby, an all-black township in Oklahoma, and the establishment of its predecessor, Haven, which parallels the story of Exodus: a band of former slaves wanders the Oklahoma territory in search of a homeland. But there are snakes in earthly paradise: Ruby is troubled by ancestral feuds and financial quarrels, a new minister with new ideas has come to town, and a scapegoat is needed to re-establish the imaginary utopia of community spirit.
---
Comments and Questions about this Web site: zenana@writeme.com
[ Current/Next Book ] [ Current Book List ] [ Browse by Year ] [ Browse by Author ] [ Reader's Guides ] [ Best Sellers ] [ Other Book Clubs ] [ Post a Review ] [ Read a Review ]