Elizabeth McCracken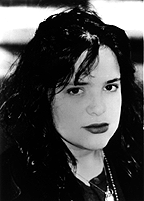 Elizabeth McCracken was born in Boston, and grew up in Boston, Portland, Oregon, and (briefly) London, England.
She was schooled at Boston University, University of Iowa, and Drexel University. She has worked off and on in libraries since she was 15 - first at the Newton (Mass.) Free Library, then the University of Pennsylvania humanities and social science library. She was the Circulation Desk Chief at the Somerville (Mass.) Public Library until the fall of 1995.
She has had fellowships from the University of Iowa; the Michener Foundation; and the National Endowment for the Arts; the Somerville Arts Council; and the Fine Arts Work Center in Provincetown, where she was twice a fellow. She was named one of Granta's 20 Best Novelists Under 40. Her collection of short stories, Here's Your Hat What's Your Hurry, was an ALA Notable Book of 1994.
Her first novel, The Giant's House, was nominated for a National Book Award, and won the Vursell Award from the American Academy of Arts and Letters.
Elizabeth McCracken is also the winner of the 1996 Barnes & Noble, Inc. "Discover Great New Writers Award", for her book The Giant's House.
---
Comments and Questions about this Web site: zenana@writeme.com
[ Current/Next Book ] [ Current Book List ] [ Browse by Year ] [ Browse by Author ] [ Reader's Guides ] [ Best Sellers ] [ Other Book Clubs ] [ Post a Review ] [ Read a Review ]