Ursula K. Le Guin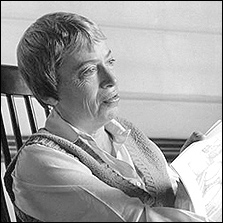 Ursula K. Le Guin was born October 21, 1929 in Berkeley, California. She was the daughter of Dr. Alfred Kroeber, an anthropologist, and Theodora Covel Kracaw Kroeber Quinn, a writer. Her mother wrote children's stories, and her father was the head of UC-Berkeley's Department of Anthropology and published many works on Native Americans. She attended Radcliffe College, where she received her B.A. in 1951. She received a master's degree in romance languages from Columbia University in 1952.
Le Guin taught writing at Pacific University, Forest Grove (1971); University of Washington, Seattle (1971 to 1973); Portland State University, Oregon (1974, 1977, 1979); Melbourne, Australia (1975); the University of Reading, England (1976); Indiana Writers Conference, Bloomington (1978, 1983); University of California, San Diego (1979); Kenyon College; and Tulane University.
Le Guin won several Hugo and Nebula Awards for her short fiction. She won the National book award for children's literature for her novel The Farthest Shore (1972), part of her Earthsea trilogy. The Left Hand of Darkness (1969), won both the Hugo and Nebula Awards, as did The Dispossessed (1974). Among Le Guin's several awards are five Hugos (1970, 1973, 1974, 1975, 1988) and Gandalf Award (1979), Nebulas (1969, 1974, 1974, 1990, 1995), Janet Heidinger Kafka Prize for fiction (1986), a Pushcart Prize (1991), a National Book Award (1973), a Newberry Silver Medal (1972), and Harold D. Vursell Award (1991).
She met and married Charles A. Le Guin (pronounced Luh Gwinn) in 1953 while they were both on Fulbright scholarships in France. He became a professor of French History at Portland State College, Oregon. They have three children and at least two grandchildren.
Go to salon.com for more on Ursula K. Le Guin
---
Comments and Questions about this Web site: zenana@writeme.com
[ Current/Next Book ] [ Current Book List ] [ Browse by Year ] [ Browse by Author ] [ Reader's Guides ] [ Best Sellers ] [ Other Book Clubs ] [ Post a Review ] [ Read a Review ]