John Irving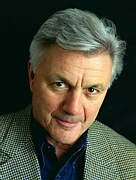 John Irving, a highly imaginative storyteller whose fictional values and narrative techniques have invited comparison with Charles Dickens and other popular nineteenth-century novelists, was born in Exeter, New Hampshire on March 2, 1942. His sprawling fourth novel, The World According to Garp (1978), earned him a huge following and a National Book Award nomination. The story of an eccentric feminist and her writer son, it displays the same delight in language and narrative exuberance that characterized his previous novels, Setting Free the Bears (1968), The Water Method Man (1972) and The 158-Pound Marriage (1974). The Hotel New Hampshire (1981) is, like Garp, a family saga. The Cider House Rules (1985) is ranked by many as Irving's best novel. A Prayer for Owen Meany was published in 1989, and A Widow for One Year in 1999.
His full name is John Winslow Irving. He grew up a faculty brat at Phillips Exeter Academy, where he acquired his lifelong interests in wrestling and writing. He became a bookworm despite his dyslexia, and lived on Front Street in New Hampshire. His stepfather, a Harvard graduate, taught history at Exeter.
Irving attended the University of New Hampshire, the University of Pittsburgh, and the Institute for European Studies in Vienna, a city that figures prominently in his earlier fiction (Marriage, Garp, Hotel, Circus), studying under Günter Grass. He graduated from the University of New Hampshire in 1965, and subsequently earned an MFA from the University of Iowa, where he studied with Kurt Vonnegut. Later Irving taught at Mount Holyoke College, the Writers' Workshop in Iowa, and the Bread Loaf Writers' Conference.
He has been awarded fellowships from the National Endowment for the Arts, the Rockefeller Foundation, and the Guggenheim Foundation. Most recently, Irving won an Academy Award for his screenplay adaptation of The Cider House Rules, which had been nominated for seven Academy Awards overall. In My Movie Business, Irving's latest published book, he details the differences between writing a book and a screenplay and gives readers insight into the tortured process of film adaptation.
Irving's most recent novel, The Fourth Hand, was published July 2001.
The father of three sons, Irving lives in Vermont and Toronto with his wife, Janet Turnbull, who is also his literary agent.
---
Comments and Questions about this Web site: zenana@writeme.com
[ Current/Next Book ] [ Current Book List ] [ Browse by Year ] [ Browse by Author ] [ Reader's Guides ] [ Best Sellers ] [ Other Book Clubs ] [ Post a Review ] [ Read a Review ]