---
Sherman Alexie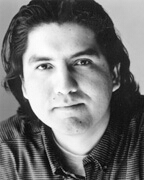 Sherman Alexie, a Spokane/Coeur d'Alene Indian, was born in 1966 on the Spokane Indian Reservation in Wellpinit, Washington. He received his B.A. in American studies from Washington State University in Pullman.
Alexie was born hydrocephalic (water on the brain), underwent a brain operation at the age of 6 months, and was not expected to survive. But survive he did, although he suffered severe side effects, such as seizures throughout his childhood. Despite ill-health, (or because of it) Alexie learned to read by age three.

He attended Reardan High School, off the reservation, where he was "the only Indian...except for the school mascot." There he excelled academically and became a star player on the basketball team. He then went on to attend Gonzaga University in Spokane on scholarship in 1985 and transferred, after two years, to Washington State University (WSU) in Pullman.
His books of poetry include One Stick Song (Hanging Loose, 2000), The Man Who Loves Salmon (1998), The Summer of Black Widows (1996), Water Flowing Home (1995), Old Shirts & New Skins (1993), First Indian on the Moon (1993), I Would Steal Horses (1992), and The Business of Fancydancing (1992). He is a three-time world heavyweight poetry slam champion.
He is also the author of several novels and collections of short fiction including The Toughest Indian in the World (Atlantic Monthly Press, 2000); Indian Killer (1996), which was named one of People's Best of Pages and a New York Times Notable Book; Reservation Blues (1994), which won the Before Columbus Foundation's American Book Award and the Murray Morgan Prize; and The Lone Ranger and Tonto Fistfight in Heaven (1993), for which he received a PEN/Hemingway Award for Best First Book of Fiction, and was awarded a Lila Wallace-Reader's Digest Writers' Award. Among his other honors and awards are poetry fellowships from the Washington State Arts Commission and the National Endowment for the Arts.
Alexie and Chris Eyre wrote the screenplay for the movie Smoke Signals, which was based on Alexie's short story "This is What it Means to Say Phoenix, Arizona." The movie won two awards, the Audience Award and the Filmmakers Trophy, at the Sundance Film Festival in 1998 and was released internationally by Miramax Films. In 1999 the film received a Christopher Award, an award presented to the creators of artistic works "which affirm the highest values of the human spirit." Alexie was also nominated for the Independent Feature Project/West 1999 Independent Spirit Award for Best First Screenplay.
Alexie lives with his wife and son in Seattle, Washington.
---


Compare new & used books prices

---
Comments and Questions about this Web site: zenana@writeme.com
[ HOME ] [ Current/Next Book ] [ Current Book List ] [ Browse by Year ] [ Browse by Author ] [ Reader's Guides ] [ Best Sellers ] [ Other Book Clubs ] [ Post a Review ] [ Read a Review ]
Zenana Book Club
KemoDog of DogStar Productions
All Rights Reserved
Revised: February 19, 2003